---
watch new videos
Bolo Yeung
martial arts legend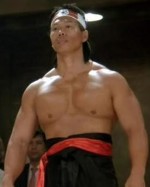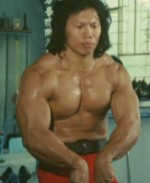 Actor
powerlifter
bodybuilder
director
stuntman
SOUTH CHINA MORNING POST ( archiv, year 1975 )
Contradiction in the life of Mr Asia-Class Two.
.The contradiction in the life of Mr Yeung See is that although he may have the most beautiful male body in Hongkong, he abhors attracting attention and shuns beaches although he loves the sea. His problem of course, is that he either finds himself being admired or looked upon as some sort of freak.
He is, howerer, unduanted by the predicament in which he finds himself. It has, after all, its compensations - he was Mr Hongkong in 1971 and 1975, Mr Hongkong Festival, and most recently his crowning achievement was winning Class Two in the Mr Asia contest.
´´I don´t like showing off´´, he said yesterday as we went through his daily work-out at a gymnasium, ´´but I am still not used to strangers staring at my body - especially women who tend to look at me rather strangelly.
´´I really don´t know what they are thinking´´, said this handsome family man who is the father of a 1,5-year old son.
He said that because of traditional thinking, Chinese women tend to shun away from muscleman like himself, but he believes this is an antiquated view.
´´I don´t care what others think of me. I´m proud of my physique and no one is going to stop me from doing the necessary exercises which keep me in shape. It takes years of systematic and painstaking training to achieve muscular control´´, he said, flexing his arms and chest which fairly rippled with power.
Mr Yeung was the first muscleman in Hongkong´s history to win a regional award - and he did so against 50 ´´ strong men´´ from 13 countries.
His success has delighted and encouraged the small hard-core band of muscleman here for a breakthrough of some kind has at last been achieved.
Five years ago Mr Yeung was a freelance ´´kung fu´´ film actor, playing bit parts whenever he was fortunate enough to be chosen. Once he had begun to develop an interest in body-building he spent at least five hours a day in the gymnasium.
Now he is something of a fanatic. He watches his diet, eating lots of meat to keep up his strength, and also takes a fair quantity of vitamin pills.
´´When I fifst started I was a skinny, insignificant nobody. Today I weigh 175 lbs (spread over a 5ft 7in frame and I have the strength to go with my physique.´´
´´I look on body-building as a form of sport that helps me maintain both my health and strength. It is an art in itself. It irritates me that a lot of people eye me with a certain amount of scorn as if I was some strange animal.
´´Jealous? Yes, they may well be. But it still makes me feel uncomfortable,´´ he said.
Success of course has stimulated his ambitions. ´´ I want to get fitter and stronger, I want to take part in as many contests as possible. My next target is the Mr Hongkong ´76 contest. After that? Well who knows, I would like to enter some world competitions, but it´s a question of money. But I have faith and I have confidence. I´m sure I´ll make it, ´´ he said.
ELIZA VIU